Enjoy Free Shipping on Orders over $50!
With You Rose Photo Locket Necklace
$209.00
In Stock | STYLE: 001-601-01487
Sterling Silver "Rose" Locket with .03 CTW Diamond With 18" Sterling Silver Chain

Our Rose silver heart locket's namesake was an extraordinary woman. Rose was a believer that actions speak louder than words. Be the good you want to see in the world. Thais is what Rose is about. She's about listening to those around her and being there when we need her most, without ever asking for help. Her intuition and sense of global decency guide her to where she can do the most good in the world. We wish we could be more like her but she's one in a million. This keepsake locket is named after her because of the heart and how it radiates outward and shine brilliantly. Whether it's preparing a meal for her family or for families who don't have meals, she is the outward heart in the world. These women should be cherished and reminded that even though they outshine us sometimes, we're there cheering them on and providing support when they need to take a breath.... *Prices are subject to change based on fluctuations in metal prices and currencies
General Details:
Ships Today (if ordered by 4:00 pm EST)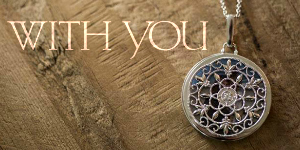 www.withyoulockets.com
WITH YOU Lockets
In March 2002, following a short battle with brain cancer, designer and creator Mikki lost her father, Michael.

Three years later, her sister was engaged to be married and she wanted their father to be represented at the wedding in a manner that would be both meaningful and private.

She created an anklet with a locket and tucked his photos inside so he could walk her down the aisle.

She wore the anklet on her own wedding day and soon began making them for other friends and family. With each new locket, the idea for an extended line of jewelry began to take shape – one that would move beyond anklets and weddings. The concept for With You was born.

We all have people who have shaped our lives, who inspire us, who give us courage and share our joy—who walk through life with us, whether they are by our sides or in our hearts.

With You is a beautiful way to commemorate these relationships, to tell their story, and ours.
Do you have questions about With You Rose Photo Locket Necklace?
Please send us a message and our staff will be happy to help you with whatever questions you may have.