Enjoy Free Shipping on Orders over $50!
Officina Bernardi Sterling Silver Necklace
$85.00
In Stock | STYLE: 001-601-02311
Officina Bernardi Sterling Silver Necklace

925 Sterling Silver
Platinum/18K Rose
18.00"
Station Round Moon style
Pink/White
Bead diam. 3 mm.

At the heart of all Officina Bernardi's innovative designs is 925 sterling silver. What's unique about the Italian designer's production is white metal jewelry is electroplated with platinum. Any Officina Bernardi jewelry that is yellow or rose in color is electroplated with 18K gold. These added layers of higher end precious metals gives Officina Bernardi a rich, luxurious look but at prices that are more affordable than many might think.

SVS Fine Jewelry is a proud authorized retailer of Officina Bernardi.

Created from start to finish in the same compound outside of Venice, Officina Bernardi jewelry is designed by machine and assembled by hand with care for a seamless merging of modern and tradition. The spirit and heritage of Italy, the influence of regional landmarks, and the desire to express their vibrant culture through jewelry is the driving force behind Officina Bernardi. The sophisticated and continuously curious individual is whom inspires Officina Bernardi. A small gold and silver bead, representing the moon, is Officina Bernardi's signature. It is manufactured with high-precision etching methods, which mimics a diamond's luster.

Warranty
Customers can claim any faulty product within 2 years from the date of purchase to the Warranty Office. Officina Bernardi (the manufacturer) warranties each product for a 2 year term from the date of purchase for any defect and noncompliance. For any claim occurring during this period, Calicantus S.r.l. (the seller) will see to repairing (according to Officina Bernardi's judgement) or substituting the product, or its parts, according to the below guidelines. The Customer will not be charged for any parts or materials used for the repair. The Manufacturer reserves the right to decide whether to repair faulty products or substitute them with new ones – in a different colour, with the same or better characteristics, in case the original product should no longer be available.

Guidelines
The proof of purchase (invoice or bill) has to be submitted with the product when returned for claim to Calicantus S.r.l. The Manufacturer reserves the right to refuse any claim during the warranty term if the proof of purchase is not available, incomplete or unreadable.... *Prices are subject to change based on fluctuations in metal prices and currencies
General Details:
Ships Today (if ordered by 4:00 pm EST)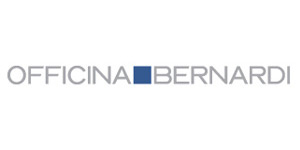 www.officinabernardi.it
Officina Bernardi
Officina Bernardi was born in 2007, the idea of ​​Carlo and Francesco Bernardi to create a new brand in the jewelry industry, a brand which combines the unmistakable Italian style with high technology.

Do you have questions about Officina Bernardi Sterling Silver Necklace?
Please send us a message and our staff will be happy to help you with whatever questions you may have.