Enjoy Free Shipping on Orders over $50!
Freida Rothman Imperial Blue Earrings
$350.00
In Stock | STYLE: 001-607-01869
Freida Rothman Imperial Blue Bezel Set Hoop Earrings

Meet one of Freida Rothman's favorite earrings of the season, the Imperial Blue Bezel Set Hoop Earrings. Loved for its sparkle, the bezel set blue ombre stones in matte gold are intricately designed, both on the outside and inside of the hoop. These earrings are simply stunning and can be transitioned for day to evening. This is not your ordinary hoop earring!

- Sterling Silver core
- Hand-set aqua marine and blue cubic zirconia stones
- 45 mm hoop, 14K gold post
Engraved with FREIDA ROTHMAN insignia
Designed in Brooklyn

SVS FINE JEWELRY IS A PROUD AUTHORIZED DEALER OF FRIEDA ROTHMAN DESIGNS.

HOW TO CARE FOR YOUR FREIDA ROTHMAN JEWELRY:
FREIDA ROTHMAN jewelry has 14k signature matte Gold/Platinum Rhodium over a base metal of .925 Sterling Silver.
To preserve the beauty and finish of your jewelry, follow the steps below:
* Warm water and soap is all you need to clean FREIDA ROTHMAN jewelry.
* Please do not use harsh chemicals and never use jewelry cleaners.
* Preserve the finish of your jewelry by removing it when washing your hands, exercising, cleaning and before applying any kind of lotions or perfumes.
* Store each piece separately in a cool dry place away from direct sunlight. Store your jewelry in the provided pouch or mini jewel box.... *Prices are subject to change based on fluctuations in metal prices and currencies
General Details:
Ships Today (if ordered by 4:00 pm EST)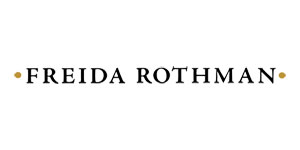 Freida Rothman
Freida Rothman is the quintessential born and bred NYC woman raised in the jewelry industry. She embodies her brand, classic with a modern twist. Her love for jewelry started at a very young age, and she naturally found herself designing for private label lines early in her career. After years of experience, Freida branched out and started a line that retained her love of modern cosmopolitan style. Freida Rothman jewelry was launched in 2010 as a collection of distinctive, sleek, and effortless jewelry.
Do you have questions about Freida Rothman Imperial Blue Earrings?
Please send us a message and our staff will be happy to help you with whatever questions you may have.