Enjoy Free Shipping on Orders over $50!
John Hardy Bracelet
$395.00
In Stock | STYLE: 001-605-02910
John Hardy Women's Naga Collection Silver Double Dragon Head Bracelet on Chain with African Ruby Eyes, Size Small (fits approx. a 5.5-6.0 inch wrist)

Inspired by the mythical creatures and powerful legends of Naga, Macan, Cobra and the Eagle. Powerful, dramatic and inspiring, John Hardy's Bali-inspired, artisan-crafted fine jewelry collections embody the pinnacle craftsmanship and quality.

Mythical Talismans. From our Legends Collection, Naga was inspired by the mythical water dragon that protects the ocean's pearl. Wear facing inward to be bestowed with love and abundance or outwards for protection.

SVS Fine Jewelry is an authorized JOHN Hardy retailer. Each piece sold by SVS Fine Jewelry comes with the JOHN HARDY warranty which covers basic repairs and manufacturing defects for one year from the date of purchase.... *Prices are subject to change based on fluctuations in metal prices and currencies
General Details:
Ships Today (if ordered by 4:00 pm EST)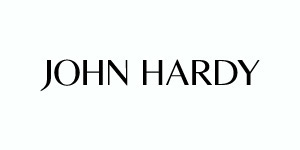 John Hardy
About John Hardy

Established in Bali in 1975, John Hardy is dedicated to the creation of ultimate beauty through artisan handcrafted jewelry. Our master artisans honor original craft through the perfection of modern design, creating timeless one-of-a-kind pieces that are brilliantly alive.

Each of John Hardy's distinctive collections conveys evocative symbolism and honors the transmission of creative energy from the artist to the wearer. Since inception, the company has been deeply rooted in the essential values of community, artisanship and sustainability.
Do you have questions about John Hardy Bracelet?
Please send us a message and our staff will be happy to help you with whatever questions you may have.