Enjoy Free Shipping on Orders over $50!
With You Michael Photo Locket Necklace
$399.00
In Stock | STYLE: 001-502-00027
Gold Plated "Michael" Locket with Mother of Pearl and Quartz doublet and .22 CTW diamonds. Gold Plated 18" Chain

Our Michael gold picture locked was named in honor of Michael Glass. Michael was a father, a friend and left behind so many memories it's hard to put them all into one place. Everything about this company started from the love of a daughter missing her dad. Our founder, Mikki Glass, wears her Michael almost every day, even though she could conceivably wear other designs. From the first day we saw the drawings of this piece we knew this was the one that should be named for him.... *Prices are subject to change based on fluctuations in metal prices and currencies
General Details:
Ships Today (if ordered by 4:00 pm EST)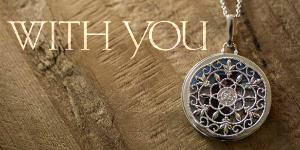 www.withyoulockets.com
WITH YOU Lockets
In March 2002, following a short battle with brain cancer, designer and creator Mikki lost her father, Michael.

Three years later, her sister was engaged to be married and she wanted their father to be represented at the wedding in a manner that would be both meaningful and private.

She created an anklet with a locket and tucked his photos inside so he could walk her down the aisle.

She wore the anklet on her own wedding day and soon began making them for other friends and family. With each new locket, the idea for an extended line of jewelry began to take shape – one that would move beyond anklets and weddings. The concept for With You was born.

We all have people who have shaped our lives, who inspire us, who give us courage and share our joy—who walk through life with us, whether they are by our sides or in our hearts.

With You is a beautiful way to commemorate these relationships, to tell their story, and ours.
Do you have questions about With You Michael Photo Locket Necklace?
Please send us a message and our staff will be happy to help you with whatever questions you may have.