Enjoy Free Shipping on Orders over $50!
With You Henry Photo Locket Necklace
$149.99
In Stock | STYLE: 001-600-05799
Sterling Silver 'Henry" Locket with .02 CTW Topaz with 24" Sterling Silver Beaded Chain

To celebrate the lives of those in the service, the Henry locket necklace reinterprets the classic dog tag, punctuated with a shimmery white topaz. Sterling Silver locket pendant with White Topaz. Locket measures 35.25mm x 19.5mm. 24" Sterling Silver beaded chain.

He was a "Harlem Hellfighter" who went unrecognized with the Congressional Medal of Honor until 2015. Almost a century after he valiatnly fought in the battle of Argone in WW1 in May of 1918. In a racial charged time he and fellow African American soldiers were relegated to latrine duty or other menial tasks. But when the French called for aid he and the other African American members of the 369th infantry leapt to their aid. He fought bravely and earned the name, "Black Death." It is men with true grit that deserve to remembered. Those who believe in something larger than themselves. Our Henry locket designed to be a reinterpretation of a dog tag reminds us of what it means to sacrafice and fight for our country, regardless of color.... *Prices are subject to change based on fluctuations in metal prices and currencies
General Details:
Ships Today (if ordered by 4:00 pm EST)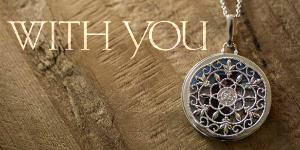 www.withyoulockets.com
WITH YOU Lockets
In March 2002, following a short battle with brain cancer, designer and creator Mikki lost her father, Michael.

Three years later, her sister was engaged to be married and she wanted their father to be represented at the wedding in a manner that would be both meaningful and private.

She created an anklet with a locket and tucked his photos inside so he could walk her down the aisle.

She wore the anklet on her own wedding day and soon began making them for other friends and family. With each new locket, the idea for an extended line of jewelry began to take shape – one that would move beyond anklets and weddings. The concept for With You was born.

We all have people who have shaped our lives, who inspire us, who give us courage and share our joy—who walk through life with us, whether they are by our sides or in our hearts.

With You is a beautiful way to commemorate these relationships, to tell their story, and ours.
Do you have questions about With You Henry Photo Locket Necklace?
Please send us a message and our staff will be happy to help you with whatever questions you may have.