Enjoy Free Shipping on Orders over $50!
Officina Bernardi Silver Bracelet
$35.00
In Stock | STYLE: 001-605-03062
Officina Bernardi Moon Collection Sterling Silver and Platinum Bracelet 7"

The Moon collection symbolizes the Officina Bernardi brand.
The name comes from the moon cutting, typical of this bead, unique for its elegance. This special cutting creates a beautiful effect, both in the gold and silver collection, with its lights and reflections.

The collection enhances the ideals and symbols related to the moon, such as universality, (being one of the most ancient myths of every civilization), dreaming, or the light in the dark to comfort people in the night.

The Moon collection is elegant but easy to wear in different moments of the day, for a woman who loves her refined style. Available also in the male collection, where the elegance of the Moon beads enhances its value and strength with a bigger size and the contrast between the black and white colours.


In order to maintain and prolong the quality and brightness of your jewels, please, take note of the following recommendations:

Do not use detergents/perfumes/creams directly on your jewels. If it happens, please wash them with warm water
Use special care if your jewels have been treated with galvanic procedures, (especially for pink, yellow or black silver/gold jewelry)
Do not wear your jewels in a swimming pool or if you practice sports that could cause hits, scratches and rubs
Be careful if you wear Officina Bernardi jewels and garments made of soft and delicate textures (for instance silk)
Wash your jewels with warm water and mild soap, washing and drying them with a soft cloth
Place your jewels separately in order to avoid any friction.... *Prices are subject to change based on fluctuations in metal prices and currencies
General Details:
Ships Today (if ordered by 4:00 pm EST)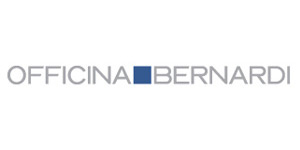 www.officinabernardi.it
Officina Bernardi
Officina Bernardi was born in 2007, the idea of ​​Carlo and Francesco Bernardi to create a new brand in the jewelry industry, a brand which combines the unmistakable Italian style with high technology.

Do you have questions about Officina Bernardi Silver Bracelet?
Please send us a message and our staff will be happy to help you with whatever questions you may have.