Enjoy Free Shipping on Orders over $50!
Bronzallure VARIEGATA Iconic Gemstone Bead Bracelet
$169.00
In Stock | STYLE: 001-351-00328
Bronzallure 18K Rose Gold Plated Variegata Shiny Bead Bracelet. Milky Aquamarine

An ultra-faceted, gleaming sequence of genuine natural gemstone beads, superbly cut to highlight their inner beauty and properties, and available in a wide range of pastle to solid colors: this bracelet, featuring an ultra comfortable magnetic closure includes 18KT rose gold plated beads all studded with a smooth surface in white Cubic Zirconia. Choose from magnetic green agate, soft labradorite, or the dense pastesl hues of amazonite, milky aqua marine or rose quartz. Now also available in a choice of black onyx, purple agate and white agate: the family is growing due to the timeless success of these versatile, collect-them-all bracelets!... *Prices are subject to change based on fluctuations in metal prices and currencies
General Details:
Ships Today (if ordered by 4:00 pm EST)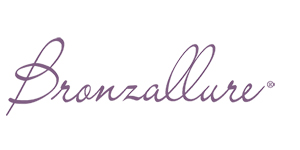 Bronzallure
Each Bronzallure jewel is designed for the pleasure of being worn: alone or in combination, so as not to go unnoticed, to play with color, for those seeking extraordinary, wearable jewelry.

A collection of true affordable luxury: necklaces, bracelets and accessories for a colorful life. An everyday jewel that stays close to the wearer, and to the admirer.
Do you have questions about Bronzallure VARIEGATA Iconic Gemstone Bead Bracelet?
Please send us a message and our staff will be happy to help you with whatever questions you may have.