Enjoy Free Shipping on Orders over $50!
Freida Rothman Studded Eternity Hinge Bangle
$295.00
In Stock | STYLE: 001-350-01483
Freida Rothman Studded Eternity Hinge Bangle

If you were to ask Freida Rothman"what is the must-have bangle"- this would be the one! The signature studded bangle is the perfect bangle to #StartYourStack and it looks fabulous worn alone as well! Freida Rothman loves this one so much she created it in so many color ways - the more you add the better the stack looks, your arms the limit as how high you can go!!!!

- Sterling Silver Core
- Hand-set cubic zirconia stones
- Hinge with clasp closure
- Engraved with FREIDA ROTHMAN insignia
- Designed in Brooklyn

SVS FINE JEWELRY IS A PROUD AUTHORIZED DEALER OF FRIEDA ROTHMAN DESIGNS.

HOW TO CARE FOR YOUR FREIDA ROTHMAN JEWELRY:
FREIDA ROTHMAN jewelry has 14k signature matte Gold/Platinum Rhodium over a base metal of .925 Sterling Silver.
To preserve the beauty and finish of your jewelry, follow the steps below:
* Warm water and soap is all you need to clean FREIDA ROTHMAN jewelry.
* Please do not use harsh chemicals and never use jewelry cleaners.
* Preserve the finish of your jewelry by removing it when washing your hands, exercising, cleaning and before applying any kind of lotions or perfumes.
* Store each piece separately in a cool dry place away from direct sunlight. Store your jewelry in the provided pouch or mini jewel box.... *Prices are subject to change based on fluctuations in metal prices and currencies
General Details:
Ships Today (if ordered by 4:00 pm EST)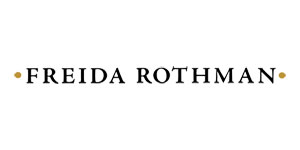 Freida Rothman
Freida Rothman is the quintessential born and bred NYC woman raised in the jewelry industry. She embodies her brand, classic with a modern twist. Her love for jewelry started at a very young age, and she naturally found herself designing for private label lines early in her career. After years of experience, Freida branched out and started a line that retained her love of modern cosmopolitan style. Freida Rothman jewelry was launched in 2010 as a collection of distinctive, sleek, and effortless jewelry.
Do you have questions about Freida Rothman Studded Eternity Hinge Bangle?
Please send us a message and our staff will be happy to help you with whatever questions you may have.