Enjoy Free Shipping on Orders over $50!
Brother Wolf Our Lady of the Guard Pendant
$160.00
In Stock | STYLE: 001-600-02666
Our Lady of the Guard, Based on a sanctuary which anoints the highest hill in Marseilles, France harbor recalls the Blessed Virgin Mary and her protection of everything relating to the sea. She defends the city and is nicknamed la Bonne Mére (the Good Mother). The hill's importance as a place of worship for all religions dates back to Greco-Roman times and its military vocation to the Middle Ages, when it was named The Guard. A chapel dedicated to the Blessed Virgin and authorized by St. Victor sits at the precipice where an unusually large and striking monument of the Blessed Virgin greets all visitors to Marseilles. As well as being a major local landmark, Notre-Dame de la Garde is the site of a popular annual pilgrimage every August 15th, the Feast of the Assumption.

Virtue: Protection
Patronage: Sailors
Chain is Separate... *Prices are subject to change based on fluctuations in metal prices and currencies
General Details:
Ships Today (if ordered by 4:00 pm EST)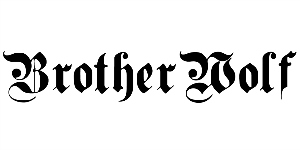 www.brotherwolfonline.com
Brother Wolf Religious Jewelry
There is a famous story of St. Francis and a wolf, in which the animal terrorizes the town of Gubbio. When St. Francis finds the wolf, he pleads with him to stop the violence by calling him, "Brother Wolf."

This story is where Brother Wolf jewelry got its name. "The line originally was inspired by St. Francis and his love for animals," says Tesauro. Brother Wolf leads the pack in offering religious-themed medallions, each designed and handcrafted to provide customers a meaningful relationship with their jewelry. Family-owned and run, Brother Wolf relies on the virtue and symbolism behind each piece it creates.

Jonathan Tesauro of the Brother Wolf family gave some insight into the inner workings of the company. "We believe in fashion with meaning and that style is a virtue. Those are the two very important aspects to Brother Wolf."

Brother Wolf takes a truly unique approach to jewelry design. Tesauro says, "Our designer travels the world and finds inspiration from different places. Relics found in remote shops far off the beaten path will inspire a design that will then be in the line."

When asked about the process of making the pieces, he says, "Once we have a design, we do extensive research on the saint or mystic that we're featuring. We want to know as much as possible so that we can write the story and share it with our customers. Each handmade piece comes with a card that explains the history and meaning."

Brother Wolf takes a unique approach to giving back as well. Each piece is associated with a different virtue and social cause. "We choose charities based on the piece that will work with us and support our mission," says Tesauro. "For example, the Sacred Heart piece represents love and supports Mercy Corp. Our Lady of Lourdes represents hope and supports the American Heart Association." A full list of the pieces and their charities can be found on the Brother Wolf website.

On
Do you have questions about Brother Wolf Our Lady of the Guard Pendant?
Please send us a message and our staff will be happy to help you with whatever questions you may have.